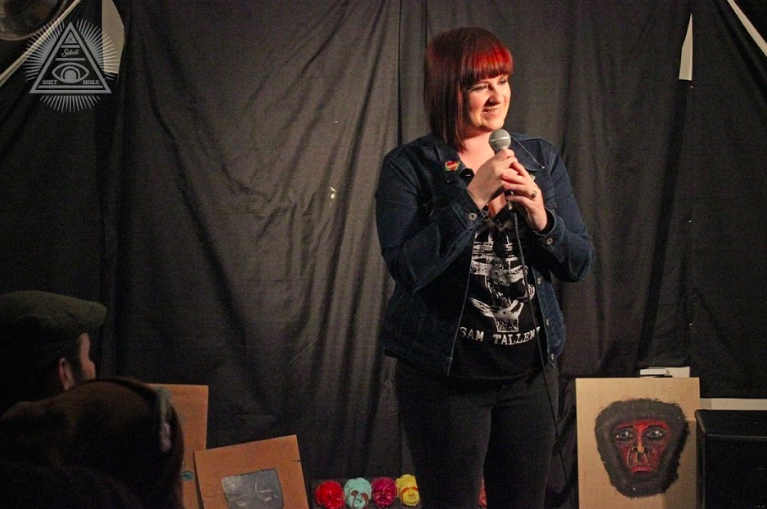 Comedian Whitney Wasson produces the sober showcase Serenity Now!
Photo by Loren Egeland
Earlier this year, I had the opportunity to interview five sober performers who are local inspirations of mine. These are folx that I met when I was taking trips up to Chicago to see shows back when I was living in the burbs.
The first one focused on ways that theaters and venues can be more accommodating to addicts in recovery
Talking to the same people, I followed up with pieces of wisdom they wished they knew earlier in their recovery
As for a third… that's up in the air. If inspiration strikes and a good angle comes forward, I'll have to continue. I think part of it is allowing the inspiration to come forward, and agreeing to follow the synchronicities when they present themselves.
To pull back the curtain a little bit on this process, I found it arduous to write these articles. "It's my first article in a long time," Worry reminded me, "it has to be perfect or else people will think you are a bad writer and wonder what you have been doing with your life!"
Drastic, of course. A goal for this year has been to find a way to write while minimizing the emotional toll each piece takes on my nerves. There's an uneasy relationship between "hard work" and doing something "at all costs."
The working definition of "hard work" for the purposes of this blog comes from a holistic approach, starting with goals and planning, devising a roadmap but also keeping open to surprises. Hard work can be easy at times, or at least call on different abilities like discernment over strength. In this, hard work is about working smart and with breath.
If hard work is efficiency to be at speed, succeeding "at all costs" is jettisoning anything that may slow you down.  To do something at all costs is an agreement to sacrifice everything for what you want, but don't confuse this for Buddhism. What is being sacrificed here is personal power, rendering yourself powerless to what you desire. "At All Costs" is a jump away from "The ends justify the means."
So at this end, please enjoy the fruits of these interviews. You can support Nire, Emillie, Hannah, Whitney, and Eileen through these dang sites.